Heritage rose - 'Charles de Mills'
Gallicas of unknown breeder, The Netherlands, before 1790.
Synonym:
'Bizarre Triomphant'. This is actually the name by which this rose was first known.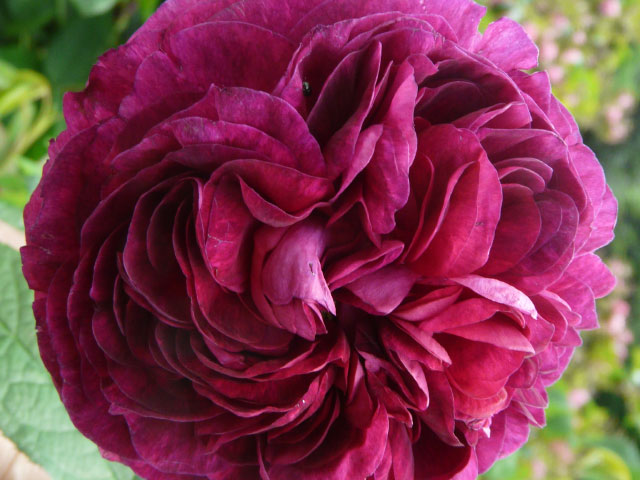 Description:

Bush:
Erected shrub of 1m50 to 1m60 high.
The stems have rare sharp prickles but are strewn with acicles..

Flowers:
Once flowering by the end of May, June depending on the climate.
Flowers are in bouquets, large, very full and quartered, in a perfect hemisphere shape, often with a small rosette around the central eye. The outer petals are reflexed. The colour is purple-scarlet shaded with violet.
At the end of flowering, it changes from deep red and velvety purple to scarlet to purple.
The beauty of this rose is exceptional.

Fragrance:
Light and pleasant.

Cultivation:
For gardens and collections, it is better to take a grafted rose (on canina if limestone soil) because it will sucker much less and you will be easier to keep the right variety. Gallicas do not have taproots and multiply by suckering. This is what has allowed them to survive over the centuries without any particular care.
This rose is very resistant to disease.
Plan on good fertilisation and compost in the spring.

Pruning:
In July, after the single spring flowering, prune the large branches to 50cm to avoid tangling and to have less wind and snow load during winter.



Its name, its history:

The name 'Charles de Mills' never appears in literature before 1840. Perhaps this name comes from an Englishman Mills in Blyth (Nottinghampshire, England).
The first time this rose was described as 'Bizarre Triomphant' shortly before 1790. This is the name by which it is best to call it. But it is true that having a 'Charles de Mills' in your garden is more rewarding than 'Bizarre Triomphant'.
This rose was one of the favourites of Empress Josephine.



Back to the list of heritage roses