Heritage rose - 'Gloire de Dijon'
Bourbon, Jacotot, France, 1853.
Synonym:
'The Old Glory Rose'.
Origin:
variety resulting from a cross of the Noisette rose 'Deprez à fleurs jaune' and a Bourbon rose 'Souvenir de la Malmaison'.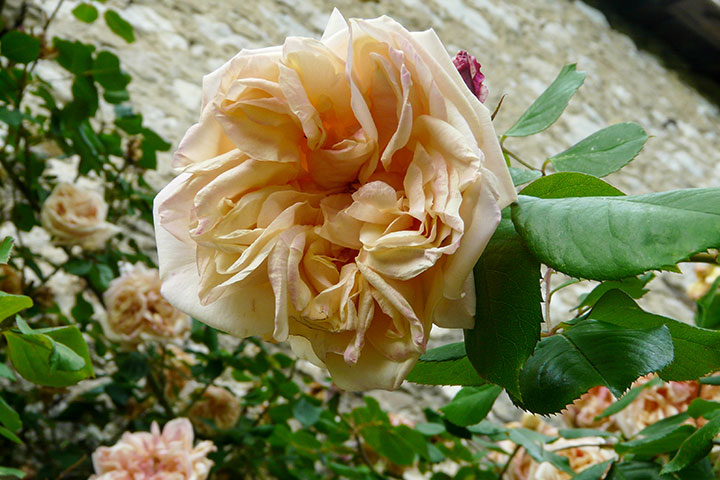 Description:

Structure:
Climbing rose reaching 4-5 m, arched and uneven thorns.

Flowers:
Large, full, flat cupped flowers. Petals are organised in quarters. The flowers are carried by short, firm stems.
Flowering starts very early and is abundant and continuous.

Coulour:
Light salmon to yellow, with shades of pink. The exact shade can vary depending on the maturity of the flowers and the weather. The complex colour of the flowers also varies during the season, from buffy vanilla yellow in spring to more pinkish tones at the end of the season.

Fragrance:
Strong Tea rose fragrance.

Feuillage :
Dark green and sparse.

Cultivation:
This is a robust rose. It grows quickly, especially in rich soil.
It can be susceptible to marsonia and tends to degarnish at the base. Companion plants in shades of blue, such as delphiniums, are a nice colour combination to cover the base of the rose.

Pruning:
Simiolar to any climbing and reblooming roses.

Awards:
This rose is an Old Rose Hall of Fame, a list of heritage roses recognised as being of historical importance by the WFRS (World Federation of Roses Societies).

To remember:
'Gloire de Dijon' is a rose famous for the beauty of its flowers, their fragrance and its floridity. It has long been a favourite and has never stopped being marketed.
Sometimes growing this rose can be difficult, leading to disappointing results. It is not impossible that these failures are due to a bad rootstock, or an unsuitable location.



Its name, its history:

Its breeder honoured the beautiful city of Dijon as its name has travelled around the world, as has the rose which has long been a favourite among rose lovers. It has never stopped being marketed.

This rose was bred in 1850 by Henri Jacotot (1799-1883) and his son, Pierre, in their nurseries of Dijon. Given the long juvenile phase of a rose such as 'Gloire de Dijon', it will certainly have taken many years to have a fully developped mother plant and several more years for multiplying it. The rose was exhibited in Dijon at a horticultural show in June 1852 and was marketed in 1853. 'Gloire de Dijon' is the only rose obtained by Pierre Jacotot who was from an ancient family of nurserymen (since the 17th century) of Dijon. But what a success!



TWO AMERICANS MEET 'GLOIRE DE DIJON'



The scene takes place in December 1917, one of the most tragic periods of the Great War. Two American soldiers have the opportunity to pass in Dijon on their way to the front. One of them has 'Gloire de Dijon' in his garden in the United States. He wanted to see the original plant of this rose that he admired so much:


"Luck was with us. After walking for about an hour, we turned a corner, when, in large painted letters on the brick wall, appeared: Jacotot. Horticulturist. Like a flash, the name I was trying to remember came back to me, and we crossed the street, went through the little door, and walked towards the house (…). When entering the small office, we said we were American soldiers interested in roses and wanted to see the original 'Gloire de Dijon' , which we knew well in America. A woman, who told us she was Jacotot's daughter, greeted us, and led us outside to show us an old climbing rose. It did not look so old as to be the original plant. Unless a severe pruning had removed all traces of old wood (…). We left the place amazed that it could have given rise to such a delicate a rose, which, tried for over sixty years in almost every civilised country in the world, is still so beloved as to have reached a level rarely equalled by other roses."

American Rose Annual. 1920. Texte choisi et traduit par J. Baudrier, in Rosa Gallica, n° 13, janv.-fév. 2002
Nouvelle encyclopédie des Roses anciennes de François Joyaux - page 198


Pierre Jacotot
Descendant from Lyon:
Back to the list of heritage roses