Heritage rose - 'Noisette Carnée'
Noisette, Philippe Noisette, USA, 1814.
Synonyms:
'Blush Noisette', 'Rose Noisette',
Rosa noisettiana
.
Origin:
seedlings of 'Champneys' Pink Cluster'.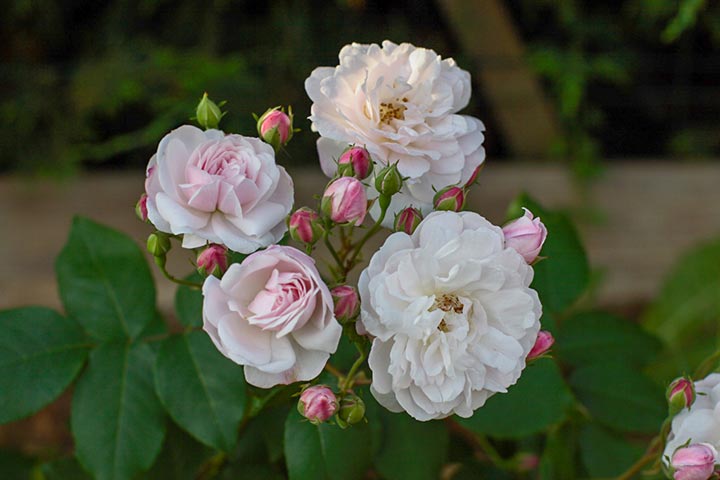 Description:

Bush:
Shrub of 1m20 to 2m with branches that can, sometimes, reach 5m if palisaded. The bush bears almost no prickles.

Flowers:
The flowers are small (4cm), most often grouped in corymbs. Initially in pompons, they open flat, revealing a few yellow stamens. They are light pink to white with rounded crimson-red buds.

Colour:
Light pink shaded with lilac, then turning white.

Foliage:
Abundant, light green, insensitive to disease. Young reddish shoots.

Fragrance:
Light, pleasant, reminiscent of cloves.

Cultivation:
A vigorous, almost deprived of throns, exceptionally resistant to disease, and tolerant to cold.
Easy to grow, it can be left free as a shrub of 1m80 to 2m, or palisaded to reach 3 to 4m. It adapts well to a shady situation, which it prefers than a hot exposure.



Its name, its history:

The Noisette brothers had nurseries of fruit trees and ornamental shrubs on both sides of the Atlantic: Charleston (USA) and Paris. Philippe Noisette obtained this rose in Charleston around 1810 from a seedling of 'Champneys' Pink Cluster', itself the first representative of a new group of reblooming roses but fast-growing. This group is the 'Noisette' roses. Champneys' Pink Cluster' is a cross between Rosa moschata and the China rose 'Old Blush'.

Various sources seem to indicate that 'Blush Noisette' was distributed in France between 1814 and 1817, first in horticultural circles in Rouen, then in Paris with Louis Noisette, under the names 'Rose Noisette' or 'Noisette carnée'. These French names should be reinstated in place of 'Blush Noisette'.

More floriferous than 'Champneys' Pink Cluster', 'Blush Noisette' has been a huge success right after its introduction. It was itself the sire of the first Tea-Noisette roses such as 'Desprez à fleur jaune' and 'Lamarque'.



Back to the list of heritage roses