Heritage rose - 'La Belle Sultane'
Gallicas of unknown breeder, The Netherlands, end of the 18th century.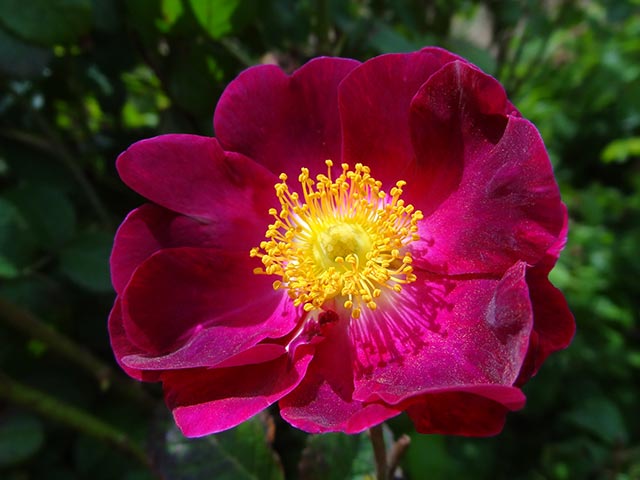 Description:

Bush:
Large (1m20 to 2m), erected with slender branches that give it a soft port.

Flowers:
6 to 7 cm large, alone or in groups of 2 to 5, semi-double (10 to 12 petals), flat; golden stamens in crown shape, very bright.

Colour:
Deep velvety carmine pink with violet shade. The base of the petal that is hidden by the stamens is white.

Foliage:
Medium green, scarce, small round leaflets rounded that are rather thick.

Fragrance:
The flowers are slightly fragrant, the stems are covered with dark bristles that scent resin.

Cultivation:
Vigorous shrub, with almost no thron, exceptionally resistant to diseases, and supporting cold regions. It is recommended to plant a grafted rose because is from cutting, it suckers a lot.

Pruning: as with all non-reblooming roses, pruning is done after flowering. It aims at strengthening the main stems of the bush and keep its round shape.

Facts to remember:
In May-June, its gorgeous flowering of semi-double velvety carmine flowers with violet shades is highlighted by the golden stamens. It is striking.
In autumn, the hips are identical to those of Rosa gallica 'officinalis'. They are orange, round and flattened at the top.


Its name, its history:

François Joyaux in its book La Rose de France, reveals one of the possible origins of this name…

Aimée Dubuc de Rivery, a distant cousin of Empress Josephine, was born in 1776 in Martinique. She was sent to Nantes to finish her education. She is recalled by her parents before the French Revolution but, on the way back, she is kidnapped by Barbary pirates off Mallorca. At twenty, of great beauty, she is sent to the harem of Topkapi Palace in Istanbul.

Very quickly, her favor grows: she reaches the title of fourth cadine of the old sultan Abdoulhamit I. She gives him a son who will become Sultan Mahmoud II and she will be honored with the title of Valide Sultane or "mother of the sultane".

She died in 1817. Her son will have her buried in the gardens of the mosque of Mehmet the Conqueror. He composed for her this epitaph: "Her greatness and her tremendous fame have made the country a garden of roses."


Back to the list of heritage roses